By far the most valuable use of the debugger is for telling us where our code crashed and the values of the variables.
The purpose of the debugger is to provide us with a window like the one above. The above example is for a program that has crashed due to trying to modify a read-only string. It has three main windows (NB: if either or both of the "Watches" or "Call stack" windows does not appear enable them from the "Debug -> Debugging windows" menu).
filename.c: source code
This shows the statement where the program crashed.
Watches: variables and their values
The main items of interest to us are the arguments, local variables and global variables.
Call stack: function list
This shows us which function we are in, badfun(), the function that called it, and so on up to main(). In our case there are just two functions.
The function names are double-click-able: if we double-click on the word main inside the call-stack window the other windows will show us the state of main() not badfun(). The ability to go up and down the function list, examining the variables in each function can be extremely useful.
In the following picture we have double-clicked on main() inside the call-stack window. This could be because we wanted to know where badfun() was called from or becase we wanted to view an array declared inside main() whose address was passed to badfun()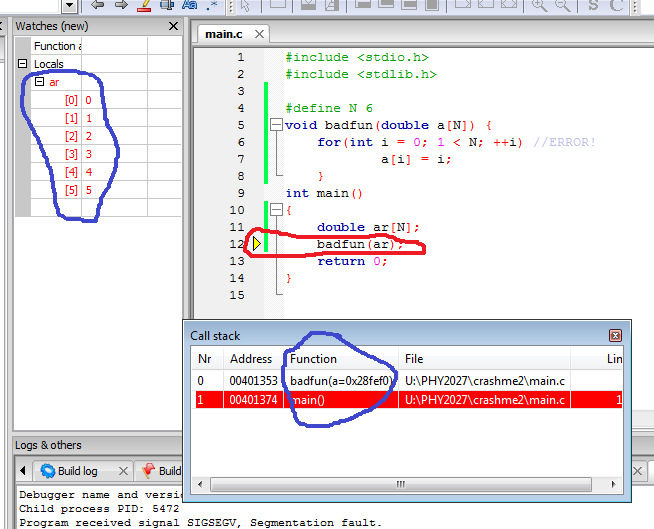 Click on the image for a picture of the whole screen.
Use the Call stack and Watches windows to move up and down the list of active functions and view their variables.
Viewing arrays
Arrays are only truely defined in the function that declared them (subfunctions are only passed their addresses) so the debugger may only show them when viewing teir original function.
The assert() macro, which is defined inside assert.h, has a simple and brutal function: if the expression in parentheses in false (zero) the program is killed there and then via the abort signal. For example, in the above case where we thought that one or more of the elements of an array were infinity or Not a Number, we could have written:
  for(i = 0; i < N; ++i)
    assert(isfinite(x[i]));

assert(expression) kills the program if expression is false (zero), it is only useful when running under the debugger.
For obvious reasons, assert() is only really useful if we are running under the debugger. For equally obvious reasons we don't want to leave it enabled when we release the program to the people who are going to use it. Therefore assert() can be turned off by defining NDEBUG before including assert.h:
/* Turn off assert */
#define NDEBUG
#include <assert.h

In this case the pre-processor replaces assert() with a space.