OUTER SPACE / INNER SPACE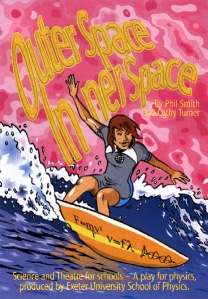 The Project
OUTER SPACE / INNER SPACE is a pioneering partnership in arts and science, involving experts at Exeter University's School of Physics and leading practitioners in experimental and educational theatre.
Two established playwrights have worked with the biomedical physics and astrophysics research staff of the School of Physics to create a dynamic new performance, bringing physics to life for young audiences (13-16 year olds) in secondary schools. The play is directed by Greg Banks and is being administrated by DAISI (Devon Arts in Schools Initiative).
The Play
Emma wants to know the truth about her mother's boating accident, but Dad won't talk about it. Her quest to find out leads her to the hospital bed of long-lost Aunt Phoebe, an Astrophysicist who shows her new ways of looking at the cosmos.
As Emma pieces together the truth about her mother's accident, Phoebe grapples to unravel the ultimate fate of the universe. Meanwhile, Victim is lost in fantasies of UFO invasion and Surf marvels at the perfect swell of the sea.
In this exciting physical theatre production, physics is shown to apply to everything around us: surfing, the stars, the flow of blood or oxygen within the body, the wind rushing down a corridor...
The play particularly emphasises opportunities for young women in physics.
A Performance
The Company
| | |
| --- | --- |
| Melissa Lovett | Emma |
| Donna Combe | Aunt Pheobe |
| Stag Theodore | Dad and Victim |
| Michael Castleton | Surf |
| | |
| Greg Banks | Director |
| Annette Plaut | Producer |
| Cathy Turner | Producer and Writer |
| Phil Smith | Writer |
| Claire Lyth | Designer |
| Roderick Orr-Ewing | Set Construction |
| Miles Russell | Sound Designer |
| Simon Poulter | Video Artist |
| Hugh Glanfield | Stage Manager |
| David Warwick | Stage Manager |
| DAISI | Administration |
Further Information
Copyright of the script remains with the authors, Phil Smith and Cathy Turner, from whom permission must be sought for any publication or performance.
For more information contact Annette Plaut.
Supported By