The Antiquaries
---
One of the first to describe Worlebury was the Revd A. Catcott of Bristol. In October 1758 he wrote in his diary:

"An uncommon camp, about 1/2 mile round surrounded on the E. Side with 7 or 8 small trenches and one large one, about 30ft broad and the banks of stone (which were dug out of the lesser trenches) raised to the height of about 16ft".

The first published description was in Collinson's "History of Somerset" in 1791, where it is described as "Caesar's Camp", probably because of the Roman coins found there. In July 1805 a remarkable plan was drawn by George Cumberland, the artist and geologist who living in Weston-super-Mare at the time.

In June 1818, the Vicar of Camerton, Revd J. Skinner, visited Weston and wrote:

"The Camp at Worlebury, on the heights to the NE of Weston, possesses far more attractions for the traveller and the antiquary; it continues upwards of 3/4 mile in length and is guarded by trenches cut in the solid rock and walls of loose stone; in the interior are noticed several small circles cut in the rock; and the land side is defended by 6 trenches. Altogether it appears to be the most interesting I have ever noticed".

Skinner excavated some of the "Circles" but found nothing.

From 1851 to 1852 the hillfort was excavated by a group of antiquaries including Revd Francis Warre, E. Martin Atkins, D. Tomkins and his son Revd H. G. Tomkins, Dr Pring and Dr Thurnam. They cleared no less than 93 pits and discovered finds of Iron Age and Romano-British date and the skeletons of 18 individuals. A plan was drawn by Atkins and several drawings and reports were published.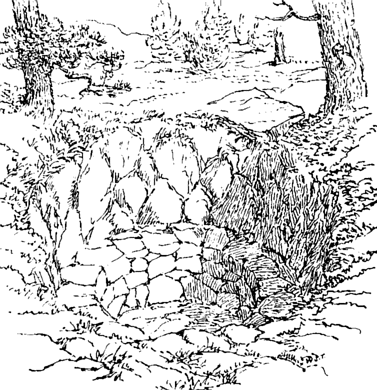 Stone-lined pit after excavation in 1851.
Thirty years later, C. W. Dymond drew together all the previously published reports, re-excavated many of the pits and found nothing. He also cut sections across the main walls and investigated the cross ditch. He produced a new plan using Atkins' work to mark in outer earthworks which, by this time, were lost to the gardens of Victorian houses. the result was "Worlebury" published in 1886 and re-issued, with revisions, in 1902.
---

On to After the Iron Age....

Back to the Main Page....
---
Text by Jane Allwood, HTMLised by Stephen Jenkins Last modified: Tue Apr 16 18:24:22 BST 1996