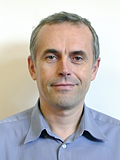 Professor Alexander K. Savchenko
The School and College were deeply saddened to hear of Alex's unexpected death whilst on a trip to Russia. He was a great scientist and teacher, combining a sharp analytical mind with a warm and self-deprecating sense of humour.
Use the form below to add your own memories of Alex.

Memories of Alex Savchenko
ALI
Friday July 16 2010
It was great moments to share thoughts with Alex in my first report "Literature Review" towards my PhD. Simply, he was GREAT.
Alan and Sarah
Friday July 16 2010
At work I will miss the conversations that started: "Alan, do you have a minute" but rarely lasted less than half an hour. Physics discussions were always full of insight and enthusiasm. Discussions of University politics showed a determination to do the right thing for our research group and for the College, sometimes tinged with frustration.
Socially, we remember long walks on Dartmoor shortly after Alex, Tamara, Tonia and Maria came to Exeter. We also remember evening meals with the Savchenkos, which were followed by toasts with vodka, Russian-style. Memories of the later parts of these evenings, however, are a little hazy!
Sharon
Monday July 19 2010
I feel very privileged to have known and worked with Alex, he was a true scientist in every sense of the word.
Alex had a deep understanding of physics and the real knack of getting those around him really involved and excited about research. Alex quite rightly had very high expectations of all those around him, consequently, Alex has built a group that is hard working, strong and cohesive. I saw in Alex a great leader (Boss) who would do anything for the group and you knew would always fight our corner if needed.
I remember my first encounter with Alex when Alex came with Adrian to 'find a chemist' when I had not been long in physics. I think I have learnt far more physics from Alex than maybe he learnt in the way of chemistry from me over the last years, he was a great teacher.
I will always be grateful to have known a person who had such a really likable side to their character. Everyone who knew Alex respected him and liked him as a person in equal measure.
Alex made a profound difference too many lives especially to those of his many students, we may not have Alex here with us, but his spirit is still very alive in the group and will stay with us all.
Derek Palmer
Monday July 26 2010
At the University of Exeter, I am an Honorary University Fellow associated with the research of the Quantum Systems and Nanomaterials Group, including, for the past two years, with that of the Graphene-Science Centre. I observed all the time that Alex Savchenko was an excellent leader of that Centre. He applied his wide and deep understanding of solid state physics to take forward very effectively the research on graphene at Exeter, and his success in doing that is clearly seen in the many and valuable research publications that the Graphene-Science Centre has produced.
In running the Centre, Alex made sure that every member of the Centre, whether student or academic, felt fully involved in the work of the Centre, and he assured that by his continuous and conscientious interest in their indvidual research contributions and by the always-courteous manner in which he communicated with all members of the Centre.
Alex Savchenko's death is a great loss to graphene research nationally and internationally and to the research in the School of Physics of the University of Exeter. I myself am greatly saddened by Alex's death. I want Alex's family to know that Alex and his research work will be long remembered.
Eros
Tuesday July 27 2010
Day after day I keep finding myself thinking that this cannot be really true. Alex's presence has always been an inexhaustible source of energy for all of us in the physics department. He was always stimulating everybody around to give their very best, from his own students to his collaborators. I have met him only one year ago, and it is also due to him that I am now here in Exeter, as a new member of the Graphene Centre. One year, not enough to share a long journey into physics, but sufficient to leave me an everlasting memory of a great person, one of those few whose impact will affect me for the rest of my life. Thanks, Alex! In the group, we keep talking of you in the present tense, and so will be for a long time…
Tom Wilks
Tuesday July 27 2010
I first met Alex in our Undergraduate Maths class in 2001. He asked me what I had done before coming to University, as he observed that I was a 'mature student'! I replied 'kogda ya byl razvedchikom v angliskoj armij'! He was astonished that I spoke Russian and we had many discussions over the former Soviet Union and the Cold War. I particularly enjoyed his incisive and logical approaches across all aspects of Physics, many of which I frequently use thanks to him. He was an absolute honour to know and he has enriched many lives through his clear approaches and considerable humour (I loved the fact that he admired British humour especially Ali G!). You will be greatly missed Alex!
Neil Cullen
Thursday August 19 2010
Yes, Alex was a real genius with people... many years ago he made me believe I could "achieve" (even in that 2nd year Maths just mentioned).
Later, he had the patience to try to explain some electrostatics to me as I crammed for a stressful final. It was the bit about how charges cut across the surface of a material and the textbook just wasn't making any sense to me. After half-an-hour with no sign of progress he skillfully brought it to a close by reassuring me that it's not necessary to worry about every detail - in one phrase he shored up this student's confidence and taught an even more memorable lesson for life, = "just try to get the big picture". (Very Savvy!!)
Matt Carroll
Tuesday October 26 2010
Alex was by far the most motivating, enthusiastic and entertaining tutor and lecturer I had during my time in Exeter. He always entertained my attempts to sidetrack our tutorials away from physics and on to any other subject (I had most success with Russian literature), and his amusement at the quirks and differences between Russian and British culture was always entertaining and rang true.
I will never forget him teaching me to pronounce words from his English to Russian military dictionary. It was a privilege to be taught by him that only the lucky got to experience.
Nick
Friday November 12 2010
Alex was a wonderful person and a fantastic lecturer, he will be sadly missed
Vitaliy Genovker
Thursday November 25 2010
It is unfair when the best people are leaving us. I am writing these words in behalf of all Alexis' classmates from the special math school # 58 in Voronezh, Russia. I met him when he was a 14 year old teenager, and I shared the same desk with Sasha (we called him Sasha in Russian) for two years. I saved many pictures of my classmates including him. Thinking about Sasha I am imagining a "Big" person not because he was the tallest boy between us, but because he had outstanding personality with many talents: besides his abilities in exact sciences Sasha was good in graphic art (especially in caricature and friendly jests), he liked to sing and we even sang together in boys' school quartet. Sasha undoubtedly was a leader by nature. He radiated a lot of positive energy, inner power and kindness, so people around him became better and space brighter. We lost the beautiful person and friend. The memory of him will be in our hearts forever!
Claudia Rocha
Saturday January 22 2011
My deep feelings to everyone in University of Exeter and the relatives due to this shocking loss. I had the chance of meeting Prof. Savchenko only once which was in my first job interview for an academic position. He was extremely friendly to me and supported me during this stressful moment at least for me. I really expected to meet him again in a second chance for a job interview in Exeter. Sadly, this won't happen.
Michael Pepper
Thursday April 28 2011
Alex initially came from Russia to work with me in Cambridge and then he moved to Exeter. I greatly enjoyed working with him and experiencing his stimulating thoughts and suggestions. After he took up a post in Exeter we stayed in touch and had frequent meetings to discuss mesoscopic physics - our main interest. His passing was a shocking event and I offer sincere condolences to his family. I and many others in the physics community greatly miss him and his contributions.
John Meakin
Monday August 15 2011
Over a year now and i still miss Alex...I knew him from a working perspective and not Physics, he was always a joy to work with; always polite and interested/interesting.He upset a few,but never me. A really good chap, and I imagine one of those people you would like to invite for dinner,I wish I had, because he would of come...unlike most academics. Goodbye Alex
Cyrus Hakimzadeh
Friday January 04 2013
Alex was my tutor at Exeter in the late 1990s. RIP.
Rob Allen
Friday July 19 2013
(Sir) Alex,
Today I passed my PhD Viva,
Many Thanks for sending me down this route,
Without your inspiration I doubt this path would have been followed,
All the best Sir, and many many Thanks, you are missed in this world,
Rob
Share your own memories of Alex